An efficient swimming pool pump is essential for sustaining proper circulation in the pool, and supports other equipment used for your pool, including the filter, heater, automatic chlorinator or cleaner.
The best
swimming pool pumps
for your pool depends on the kind of swimming pool you have and the kind of swimming pool equipment you wish the pump to support. It is important to use the proper sized pump for your pool so that the water in your pool circulates properly and is properly sanitized. When choosing a pump, you need to consider the flow rate and turnover, pool capacity and the amount of resistance needed to support the filter and other systems that rely on the pump. Pumps that are designed for in-ground pools will not work well for above-ground pools because these pumps use the force of gravity to direct the water to the pump. Pumps for in-ground pools create their own suction to keep the water moving. A basic pump will support a filter and will last many years with proper maintenance. You will need a more powerful pump to support additional equipment.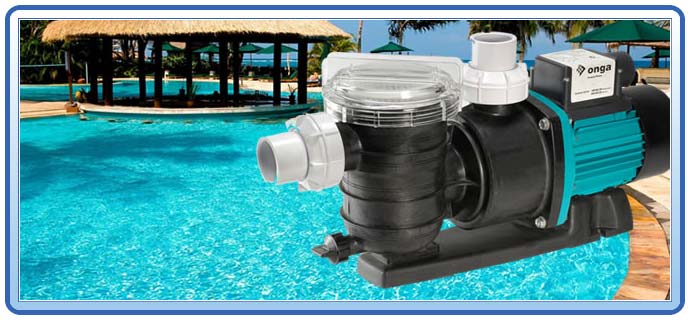 Self-priming pumps are able to automatically generate water flow to prime the pump for operation. They are suitable for both in-ground and above-ground pools, and usually have a strainer or trap to keep hair, leaves, lint and other items out of the pump and that serve as reservoirs for water that primes the pump.
Flooded suction pumps are designed for use below the pool's water level and are thus suitable for above-ground pools. Similar in appearance to the self-priming pumps, they do not have the strainer or reservoir necessary for self-priming.
Booster pumps are used in tandem with self-priming pumps to help to provide more pressure or water flow. They cannot be used without a primary pump to provide water, since they are not self-priming.
Variable speed pumps that run at different speeds are also available. [NEED MORE INFO]. Pump maintenance generally involves cleaning the strainer basket. The basket must be cleared of debris regularly, depending on where the pool is located or bather load. Cracked or broken baskets should be replaced immediately to keep the pump working properly. If hair or other debris gets through the strainer basket, you may need to clean the impeller periodically so that it does not interfere with the water flow or prevent the pump from starting.
As swimming pool pumps are major investments, you need to ensure that you get the appropriate pump for your swimming pool and the equipment that will be paired with it.